Teleseminar instructions
When invited to one of our retreats, we will send you an email with the call information, right before the call starts and when the event goes live your page will look like this: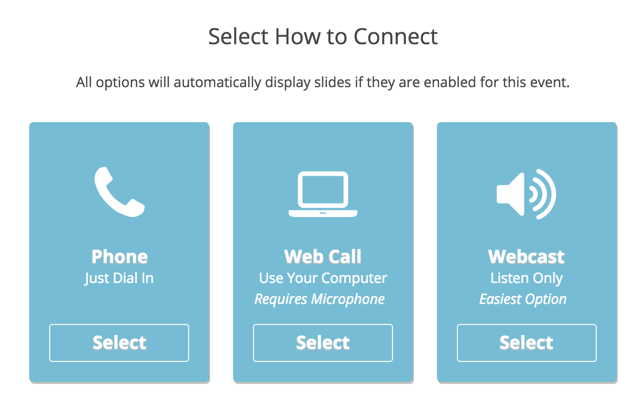 If you plan on speaking during the conference, you will need to call in by phone or connect using Web Call, since webcast is listen-only. All 3 options–phone, web call, and webcast–will display slides if they are enabled for your event.
Note that Web Call only works on FireFox or Chrome. The webcast option is listen-only, but you can still submit questions via the online question submission form that appears on the event page.
Connecting by Phone:
To see the phone dialing instructions, choose the phone option. To see if there is a local number in your country or city, click the link to local and international dial-in options. You can dial any number on the list to connect to the conference with the event's PIN.
Once connected, if you have a question, press *2 on your phone dial pad to raise your hand.
If you are having trouble connecting by phone or if you are experiencing sound quality issues, see this article on How to Troubleshoot Phone Connection Problems.
Connecting by Web Call
When you select the web call option, a new window pops up in your browser. Enter your name and city when you connect, so that the host knows who you are: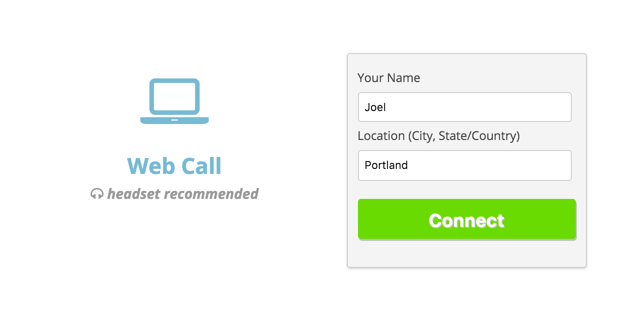 If you have problems with web call, the best option is usually to try the phone or webcast options instead, otherwise you could end up missing several minutes of your event. If you have time, you can try to troubleshoot web call.
Connecting by Webcast
Webcast is like a radio or TV broadcast: it is listen-only. Just click the button to join. Note that if slides are being shared, it may take as many as 15 to 20 seconds for the slides to appear on your screen.
How to listen to the call via Skype
PC Instructions
MAC Instructions
How to download the recording
1. Right click on the recordings link (to right click on a mac, hold down the "Control" key while you click the link).
2. Select "Save link as," "Download linked file as", or "Save Target as", depending on your web browser.